Now more than ever we are seeing people downgrade their large homes for smaller more efficient homes! The small spaces are perfect for having more energy efficient, less maintenance, lifestyle. Many people, even if they're not ready to make the ultimate move to a tiny house, are opting to be more comfortable in spaces the size of a bedroom.
With this growing trend in mind, we have seen a shift to more size friendly Air Conditioner systems. If you are one of the many that have decided to focus on less excess, there is no need to give up the comfort an AC system can provide you in the hot summer months.
In this article, we will go over the different options that are available for you! Whether you are ready to move to a tiny home, or you just want to have optimal cooling in your bedroom, we have the answers! Having an AC installation in a small space is now easy to achieve!
Pros and Cons of Portable AC's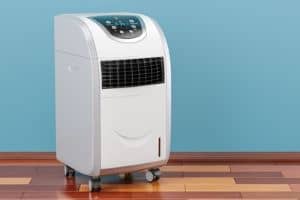 Portable AC units are becoming more popular and for good reason. They are an effective way to cool a specific area under the right circumstances. Portable air conditioners are free-standing.
They use a system of ducts/hoses that pull in outside air to be cooled and release the hot and humid air to the outside. Depending on your situation, a portable unit could be right for you!
If you live in an area that has "average" summer temperatures, you are enclosed in a small space and prefer natural light, this may be the best option for you. Portable systems do not go in windows, so you are not taking up space there.
They are also a cheaper alternative to central air, and they are easy to install. Another advantage is that they are easy to move if need be, and can be stored away for the winter. On the other hand, portable air conditioners are not recommended for larger areas as they will not have the power to effectively cool the area.
Some models can also be noisy, and they can take up space in a small area. Under the right circumstances, portable AC's have been a very efficient way for people, who have opted for smaller living spaces, to cool their homes.
How Does a Ductless HVAC System Work?
A ductless HVAC system, also called a mini-split air conditioner, actually works much as a regular central air systems works; without the ducts. Generally speaking, you will have two separate parts of the system; an indoor and outdoor unit.
Indoor Unit- The indoor part of the ductless system is what takes the warm air from your home and cools it. This is done by the system moving the warm and humid air over refrigerant coils,
Outside Unit- The outside unit is what the refrigerant will use to get rid of the warm and humid air it collected in the indoor unit.
In a normal HVAC system, the refrigerant coils are usually located in the basement or attic. The cooled air is then circulated throughout your house by the duct system. In the case of a ductless system, your indoor unit is inside the room it is cooling;' thus eliminating the need for ducts.
Many homeowners have opted for this system as it allows them to cool a specific area. It is also beneficial when the cost of central air is too much, or simply not necessary for the size of the space.
Opt For a Smart Thermostat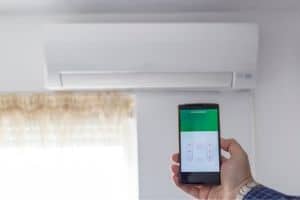 We have definitely seen an increase in smart technology over the years. From smart homes to smart thermostats, we are now able to control the temperature of specific areas of our house with just a touch.
Smart thermostats are connected to your AC unit, and can usually be downloaded to an app on your phone. This can give you the ability to turn the AC on when you get out of work or regulate the temperature while you are away on vacation.
As you are able to have more control, smart thermostats can save you a considerable amount on your energy costs. You can also have your thermostat work in conjunction with other smart home features; such as turning on the AC when the lights go on.
Call Us For Your Bedroom AC Installation
Albritton Service Co gives quality solutions fast! Our certified technicians are available for all of your AC installation needs. We are also available for repairs and maintenance as they are needed. Call us today to set an appointment at (318) 251-0885.
We have provided reliable and trusted service since 1982. We are a leader in new technology and are equipped to keep you cool this summer! Call us today!